Never Grow Old, Never Die is an Unofficial collaborative website about all things that relate to 80's cult classic, The Lost Boys and its sequel, Lost Boys: The Tribe.

This Lost Boys Wiki is here to unite fans and encourage them to write in-depth articles about the movies and characters, along with any other elements relating to the The Lost Boys universe.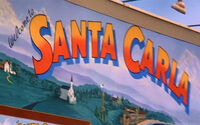 Santa Carla is the quintessential beach town, located in California. It was here that Hawaiian royalty first introduced surfing to the mainland--and locals and visitors alike have been riding the waves ever since. Not far from the surf break, calliope music and laughter fills the air at the Santa Carla Beach Boardwalk, the West Coast's last remaining seaside amusement park.
(more...)
---
Latest Bites...
---

If you would like to get started writing some articles, please visit the help page. For editing tests, then feel free to come play in the Sandbox.
The first step is to create and account. Don't worry, it's totally free!
Try to keep article images to no more than 200px wide.
Please take a moment to check out Sam's Style Guide for tips on keeping within the Lost Boys Wiki format.
Always check the talk pages on exisiting articles before editing.


To write a new article, enter the page title in the box below
<createbox> preload=Template:New_article width=50 </createbox>
Wanted Pages - Categories - Templates - Style Guide




Est. August 14th, 2008
by Head Vampire LC
Articles: 73
HeadVampire's Featured Pic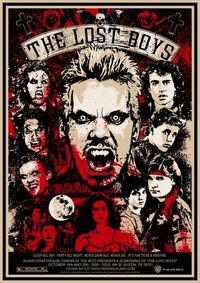 Credit: James Rheem Davis/The Alamo Drafthouse

Lost Boys Theatrical Trailer
Lost Boys: The Tribe Offical Trailer