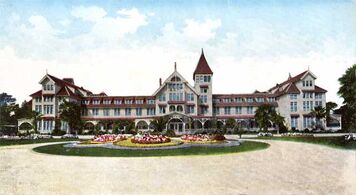 Notice From Santa Carla Chamber of Commerce: The Sea Cave at Hudson's Bluff. Hudson's Bluff once home to Santa Carla's loveliest resorts which was unfortunately destroyed in the 1906 earthquake. The cliffs are now home to many endangered and threatened species such as the yellow-billed cuckoo, tidewater goby, and the Scott's Valley spineflower. Because of local citizen's concerns for the environment this State Park is closed to the public.
Notice From Santa Carla Dept Of Public Safety:
NO TRESPASSING! Hudson's Bluffs Sea Cave is closed due to unsafe conditions. Warning: High Risk of roof cave-ins, undertow, drowning, unstable walk-ways, and falling rocks. Vampires.
Behind The Scenes:
Hudson's Bluff is where the Lost Boys lair is located. The Cave contains the sunken ruins of a hotel destroyed in the 1906 earthquake (probably based on the Valencia Street Hotel in San Francisco). The Cave is sometimes referred to as the Atlantis Hotel by fans. In early drafts of The Lost Boys scripts the hotel has a mural depicting it's original proprietor, Max The Master Vampire.
The Cave entrance is located in the now closed Marineland Park in Rancho Palos Verdes, CA. Rancho Palos Verdes, California is about 380 miles south of Santa Cruz.
Other shots of Hudson's Bluff are Gray Whale Ranch in Santa Cruz County, CA. Gray Whale Ranch is a part of Wilder Ranch State Park. Gray Whale was closed to the public in 2002 due to habitat degradation.
The Cave's Interior were created on Stages 12 and 15 at Warner Brothers studio.
Hudson's Bluff is home to the Santa Carla light house. The one shown in the opening scene is the Mark Abbott Memorial Lighthouse in Santa Cruz (home of the Santa Cruz Surfing Museum). It's approximately 6 miles east of Wilder State Ranch.